We propose a resource-constrained growth model in which new nodes that join the network use a random walk process to link to existing nodes. The mechanism that new nodes use to select an entry point into the network and subsequently form edges intuitively corresponds to how we expect researchers to find references to cite. A researcher first finds one or more relevant paper as "starting points". Then, under time and information constraints, he or she searches for potential references by navigating through a chain of references. After repeating this process one or more times, the researcher selects to cite a subset of these papers.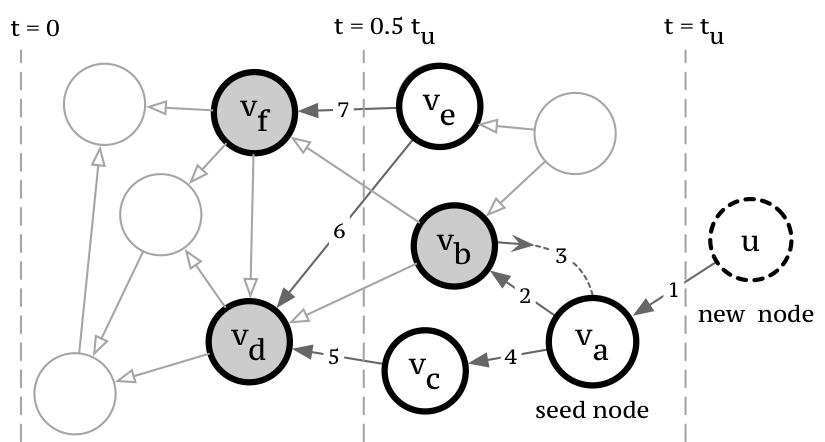 Similarly, as shown in Figure 2, every new node that joins the network selects a seed node from which it initiates the random walk process to search for potential links. The new node terminates the random walk process after linking to a subset of visited nodes. The random walk is parameterized to link to visited nodes, jump back to the seed and traverse outgoing & incoming edges with differing probabilities.
Our model incorporates the resource constraints that influence edge formation as nodes concurrently acquire information and form edges by exploring neighborhoods of existing nodes, without access to the entire network. Moreover, it captures two important sociological phenomena – preferential attachment and triadic closure – as new nodes are more likely to visit & link to popular, high-degree nodes and neighbors of nodes to which it has already linked.